A key performance indicators reporting system is to provide performance measurements that describe important business aspects.  What will be described is an enhanced approach for accomplishing this objective. The Integrated Enterprise Excellence Business Management system provides the structured framework for achieving this desire.
Key performance indicators or KPIs for business functions should be tailored to what is important for organizational aspects.  Because of this, the type of measurement reported in a KPI can differ for various business functions. For example, key performance indicators in operations can be very different from those found in finance, marketing or the supply chain.
For an individual KPI, goals can be set or the objective might be to maintain a certain level of performance for a metric.  A good understanding of what is important to both the customer and the organization is a need when determining the most relevant organizational KPIs to report.  These assessments can then lead to the targeting of specific KPIs that need improvement.
Key Performance Indicators Reporting System: KPI selection using the balanced scorecard has issues
The balanced scorecard (BSC) is often used to select key performance indicators.  With the balanced scorecard, performance measures are determined from the perspectives of financial, customer, internal business processes, and learning & growth.  In addition, these measures are to align to the organization's strategy and then be cascaded throughout the organization, where objectives measures, targets, and initiatives can be established.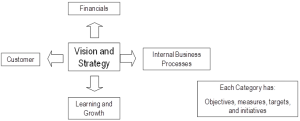 With the balanced scorecard approach to select KPIs, the chosen KPIs can change over time when leadership changes or there is a strategic change.  Also, I prefer to have a natural balance, as opposed to a forced four-quadrant balance for KPI selection; e.g., not sacrificing quality for on-time delivery.
Key Performance Indicators Reporting System: Objectives when selecting any business KPI measurement
One might consider the primary value of measurement selection is to address the issue "what gets measured gets done.: However, in addition to this cliché, measuring performance can provide information for the demonstration of compliance, creation of controls, and understanding of what needs to be done to improve a KPI metric.
Key performance indicators are to provide direction as to how well the organization is performing. KPI metrics should provide stakeholders and others an understanding of whether the business is on-track or not; however, often what happens is that organizations report measurements that are easy to capture and count, but in the end can lead to a very large number of metrics that are not manageable or do not provide the most appropriate direction.
Key Performance Indicators Reporting System: Creating a KPI dashboard
A question of concern is how to determine a reasonable number of meaningful long-lasting key performance indicators that are beneficial to the whole organization.  Organizations benefit when, to address this need, they use an Integrated Enterprise Excellence (IEE) value chain approach in the selection of their key performance indicators.
The IEE value chain basically describes (from a high level the primary and secondary functions of an organization) the most appropriate metrics for tracking each of these functions relative to quality, cost, and time. An example KPI report component using this format is:
In this figure, the ovals indicate a key performance indicator performance measurement relative to quality, cost, and time for each of the primary functions (secondary performance metrics are not shown in the figure). The rectangular boxes represent organizational functions where primary functions are connected by arrows, which describe the basic flow of the organization, and secondary (support functions) are shown as standalone entities.
The measures in an IEE value chain will remain fundamentally constant over time. The IEE value chain can become a KPI dashboard that is structurally aligned with the processes, where the effectiveness of these processes impact the reported KPI metrics. If performance provided in this KPI report is not satisfactory, then the process that is aligned with this metric needs improvement.
Key Performance Indicators Reporting System: Tracking in a KPI report
Often there is no consistency in the tracking of a key performance metric. One person might track a metric using a bar chart, while another person might use a speedometer,-type KPI dashboard.  Another person still might have the reporting of a KPI as a line item in a table of numbers.  In all these cases, the metric report out is not examining the measurement as though it came from a process.  Also this KPI report out is making a historical data statement and provides no claim about what might be expected in the future. The following figure, taken from Wikipedia, shows an example common-place KPI report out format that provides no predictive statement, which is not unlike driving an automobile by just looking out the rear view mirror.
Organizations benefit when they use an IEE 30,000-foot-level predictive performance reporting format that is part of the IEE business system for all their key performance indicators reporting.
Key Performance Indicators Reporting System: KPI Dashboard software
It is beneficial to organizations when their key performance indicator dashboards are automatically updated (e.g., daily) with predictive statements.  This need is fulfilled through the Enterprise Performance Reporting System (EPRS) software, which can be integrated with basically any ERP or database software.
Through this system, those who have authorization can have ready access to determine how the KPIs for their function or other areas of the business are performing.

KPI analytics
All organizations need to improve.  The question is where improvement efforts should focus so that the enterprise as a whole has the most benefit? The following 9-step Enterprise Process Management (EPM) system provides this guidance.
Step 2 of this roadmap contains the IEE value chain, with the organizational KPIs.  Step 3 is where KPI analytics and other analyses are conducted, which, in the end, lead to improvement projects (step 7).  When these improvement efforts are successful, processes in the value chain are improved which impacts the operational 30,000-foot-level KPI metrics.  These improvements in operational metrics then positively impact the enterprise KPI metric financials (referred to as the satellite-level metrics) because of this high-potential-improvement-areas alignment.
Conclusion about KPI reporting and its implementation
The selection and use of KPIs should be more than just reporting metrics that are determined in isolation.  Key process indicators should be determined from a high-level organizational view that breaks down the silos.  This effort should then lead to not only local improvement efforts but also strategic improvements so that the enterprise as a whole benefits.  This objective is achieved with the previously described Integrated Enterprise Excellence (IEE) methodology.
More information about the various aspects of the IEE system with its predictive key performance indicator aspects is described in a 5-book series.
Contact Us to set up a time to discuss with Forrest Breyfogle how your organization might gain much from an Integrated Enterprise Excellence (IEE) key performance indicators reporting system.