Organizations benefit when they incorporate the described considerations for data collection to make decisions. The described representative data collection methodologies apply for Lean Six Sigma projects, a process control initiative, or the creation of enterprise performance scorecards. 
The goal is to effectively collect the smallest amount of data to make the decisions that are needed. This webinar will provide you with some of the rules and guidelines that will allow you to collect data on a process in an optimal method for the purpose you need.
It is not true that more data is always good. This data collection concepts webinar will learn how different sample periods and different sampling plans will be able to improve your ability to support a decision with a minimal amount of data. The topics covered will benefit practitioners in all environments, from large automatically collected data sets, to ones where you must manually collect any data you will need.
Webinar: Data Collection Concepts for Projects, Process Control, and Scorecards
Where do the Webinar Described Data Collection Techniques Apply?
Integrated Enterprise Excellence (IEE) is a 9-step business management system:

In IEE, data collection for the purpose of scorecard tracking that can provide a predictive performance metric scorecard is provided in step 2 via an IEE value chain.
In IEE, data collection for the purpose of analysis in the IEE system occurs in:
Step 3 for the enterprise as a whole
Step 7 for the execution of an improvement project (e.g., lean Six Sigma project) that is to benefit the enterprise as a whole
In IEE, process control is addressed in steps 2 and 9.
Data Collection and Analysis Details
The details for collecting and analyzing data is provided in Chapters 15-39 of the book Integrated Enterprise Excellence Volume III, Improvement Project Execution: A Management and Black Belt Guide for Going Beyond Lean Six Sigma and the Balanced Scorecard.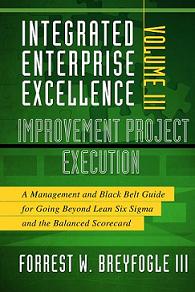 How to Report Data so Scorecards are Predictive?
The Enterprise Performance Reporting System (EPRS) can provide predictive scorecards that are in alignment with the processes that created them.  For more information about EPRS and its benefits, CLICK HERE.
Contact Us to set up a time to discuss how your organization might gain much from an Integrated Enterprise Excellence (IEE) Business Process Management System and its data collection concepts.